Current Projects
RemoteMentor. Remote Mentoring For Girls to Learn Coding with Pocket Code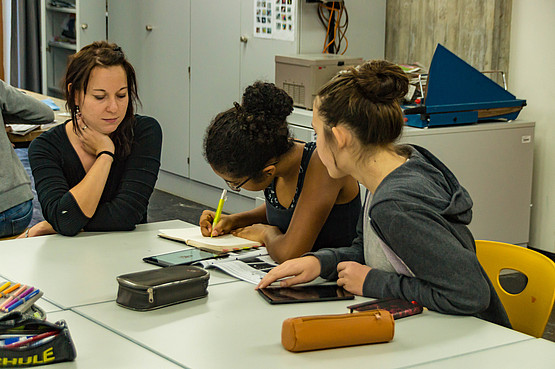 The Sociology of Gender unit at the Department of Sociology is a partner in the "RemoteMentor" project led by TU Graz. The project aims to support girls in stimulating their interest in game coding by providing individual online mentoring.
The mentoring extension for the app Pocket Code aims to offer beginners immediate online help by advanced users. A gamified matchmaking system and a two-way screen-sharing option will be integrated into the app and facilitate online code sharing between the mentee and the mentor. The project aims to encourage girls to join the Pocket Code online community as active users and stimulate their continued participation by providing individual mentoring.
The University of Graz will conduct a gender evaluation of the mentoring process and study the relationship between mentor's gender and the girls' satisfaction with their progress in coding.
Funding: netidee (Austrian Internet Foundation).
Team: Univ.-Prof. Dr. Libora Oates-Indruchová, Jana Mikats, MA
TU Graz: Univ.-Prof. Dipl.-Ing. Dr.techn Wolfgang Slany (overall project manager)
Project duration: December 2017-December 2018
Strengthening Higher Education Capacities in Palestine for Gender Equality | SHE_GE.
A Partnership between Palestine and Austria
Following an invitation by the Islamic University Gaza (IUG), the Department of Sociology at the University of Graz (Uni Graz) began Academic Partnership with the overall objective to enhance women's empowerment and gender equality in Gaza. The objective will be achieved through educational, research and institutional capacity development, aiming at the establishment of Women's & Gender Studies Centre at IUG. The Centre will provide a knowledge and material resource base to create pre-conditions for an MA programme in Women's & Gender Studies and to mediate outreach to the non-university community.
Key project activities include:
> Staff development by means of a one-year online postgraduate module in Interdisciplinary Gender Studies for IUG students and faculty. The IUG participants will meet Uni Graz students in a virtual classroom.
> Curriculum development, including
a) MA courses in Women's and Gender Studies at IUG;

b

) an English and Arabic-language reference library;

c) a reform of the IUG course "Human Rights".
> Research cooperation on "Mirror MA theses". Students from IUG and Uni Graz will work parallel to each other on similar topics, but with different approaches and disciplinary backgrounds.
> Establishment of a Women's and Gender Studies Centre as a resource hub for the university and extra-university communities.
> Community outreach focused on capacity building. The Centre will include higher education actors and women's organizations in Gaza in its activities and offer training modules.
> Public lectures at IUG and Uni Graz aimed at women's groups, higher education institutions, government administration and the general public.
The project is funded by APPEAR, a Programme of the Austrian Development Cooperation.
Coordinating Institution: Islamic University Gaza, Department of Psychology (Prof. Sanaa Aboudagga)
Partner Institution: University of Graz, Department of Sociology (Prof. Libora Oates-Indruchová)
Project Duration: 12 June 2017 – 11 June 2020
Contact:
sdagga@iugaza.edu.ps
libora.oates-indruchova@uni-graz.at
www.appear.at
LINK to the project (APPEAR)
LINK to the project (Islamic University of Gaza)
LINK to an Interview in Ö1 Campusradio about: Gender an der Uni: Über ein Projekt in Palästina; Sendung im Rahmen der Reihe "Welt im Ohr" (ORF1 Experimente Series), 22 Juni 2018 (Interviewer: Maiada Hadaia)
Contact
Sociology of Gender
Universitätsstraße 15/G3
8010 Graz
Univ.-Prof. Dr.
Libora
Oates-Indruchová
PhD
Contact
Office
Universitätsstraße 15/G4
8010 Graz
Mag. Dr.
Edith
Lanser