Prof. Libora Oates-Indruchová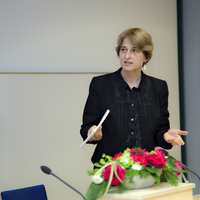 Professor of Sociology of Gender, Department of Sociology, University of Graz, Austria
I studied literary and cultural theory and obtained my PhD in English from Lancaster University, U.K., after which I completed "habilitation" (dr. habil.) in Literary and Cultural Studies at Szeged University, Hungary. I also studied Gender Studies in a non-degree postgraduate programme at Central European University in Budapest Hungary, and hold an undergraduate degree ("Magistra") in sports studies and English from Charles University in Prague, Czech Republic. I write mainly on late state-socialist Czech cultural issues and published, among others, in Signs, Slavic Review, East European Politics and Societies and Cultures, Europe-Asia Studies, Men & Masculinities and Aspasia.
Before coming to Graz, I directed the PhD in Sociology at Palacký University in Olomouc and led the research field "Communist and Postcommunist Times in Central Europe" at the Ludwig Boltzmann Institute for European History and Public Spheres in Vienna, Austria. I have taught at Charles University, Pardubice University, Masaryk University and Szeged University, and held research fellowships and scholarships at the Aleksanteri Institute, University of Helsinki; Institute for Advanced Studies in the Humanities, University of Edinburgh (Andrew Mellon Fellowship); Collegium Budapest/Institute for Advanced Study; and Central European University in Budapest. My research has been funded, among others, by the European Commission (Marie Curie Fellowship), the Czech Science Foundation, Collegium Budapest Institute for Advanced Study, Andrew Mellon Foundation, Open Society Foundation, and the British Council.
Research interests:
Cultural representations of gender
Gender and social change
Censorship
Narrative research
Areas of interest for PhD supervision:
I welcome qualitative research projects in the sociology and cultural representations of gender and sociology of culture, particularly those, but not exclusively, that relate to my research interests.
Membership in Academic Boards:
Recent book publications:
Current Projects:
GenderedCoronaTime (exploratory phase launched in April 2020): a team of 11 sociologists from Austria, Croatia, the Czech Republic, Finland, Romania, Sweden and the UK investigate the impact the COVID-19 crisis has had on the time-use in families with schoolchildren.
COST Action CA16213, New Exploratory Phase in Research on East European Cultures of Dissent, Management committee member. (2017-2021)
Completed Research Projects:
Strengthening Higher Education Capacities in Palestine for Gender Equality (SHE_GE), Academic Cooperation grant, Austrian Partnership Programme in Higher Education and Research for Development, project leader for the Austrian partner, University of Graz (grant holder: Islamic University of Gaza). (2017-2020). Project homepage: www.appear.at/she-ge
Remote Mentoring für Mädchen beim Programmieren-Lernen mit Pocket Code, Netidee programme of the Internet Privatstiftung Austria, project partner (grant holder: Graz University of Technology). (2017-2018). Project homepage: https://www.netidee.at/remotementor
Border Communities: Microstudies in Everyday Life, Politics and Memory in European Societies from 1945 to the Present; 2010-12 (research management).
Transformation on gender culture in the Czech Republic 1948-1989; 2009-2011.
Academic Censorship under State Socialism: Czech Republic and Hungary; 2008-09.
Educational choices and anticipation of chances on the labour market from a gender perspective; 2007-08.
Models of Consumption and Cultural Identity Across Eastern & Western Europe: Conflict or Challenge?; 2004-05.
Self-censorship and "text coding" of academic texts during Normalisation, 1968-1989; 2003-04.
Body Production under State Socialism; 1999-2000.
Democratisation, Social and Political Change and Women's Movements; 1994-95.
Contact
Sociology of Gender & Gender Studies
Universitätsstraße 15/G3
8010 Graz
Univ.-Prof. Dr. habil.
Libora
Oates-Indruchová,
PhD
Thursday 11-12 (book appointment by email) and by agreement;
outside of the teaching weeks virtually